---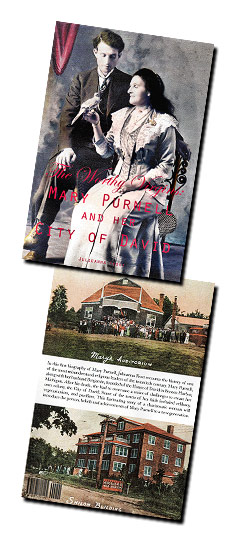 To follow our programme in July at Mary's City of David that featured Julieanna Frost, speaking on her now published biography of Mary Purnell.
Saturday, December 13th
From 2-5PM
Julieanna will be at
Mary's City of David,
Mary's Shiloh,
1158 E. Britain Avenue
We have purchased a supply of books and she will be here to sign copies. We will have Julieanna sign a number of copies and if you are not able to meet her here on the 13th, you can still purchase a signed copy from us by visiting Mary's Shiloh, M-F, 1-5PM and Saturday 10-noon.
NEW, long overdue and
fresh off the press...
"The Worthy Virgins, Mary Purnell and Her City of David"
By Julieanna Frost, professor of U.S. History, Siena Heights University, holding two Master's in Culture and Women's Studies (Eastern Michigan University) and a doctorate in Women's History from Union Institute and University. This biography of Mary Purnell will be her 4th publication, which includes her work, "The Life of Rosa Young".
This is a long overdue writing upon a figure that was the co-founder of the Israelite House of David, 1903. A woman of constant and earnest faith that guided her through the turbulent years of court trials and then a bitter division amongst the membership over the leadership role, after her husband, Benjamin Purnell's death in 1927.
Her plans of reorganization was to build a whole new religious community just two blocks east of the original properties, which began in the Spring of 1930 as America reeled with the economic collapse of 1929. Her amazing success within 5 years was noted in the region, by economic success. Her spiritual authenticity was recognized and flourished as she continued to publish inspired volumes, that by 1945 would place her foremost of a world wide movement that began with the Philadelphian Society, in London, 1652.
This biography discovers with illumination, the fascinating story, character and faith of a woman that has often been set aside or misunderstood. Julieanna Frost's in depth research from archive resources that were not been available to the public until 2009, greatly enhanced her understanding and desire to position Mary Purnell among the notable women's religious figures in America of the 20th Century.
For those that enjoy reading local history, women's history, Great Depression Era history, or just a fascinating account of an almost forgotten religious leader of the 20th century, will certainly be pleased with their discovery of Sister Mary Purnell.
Published by Richard Couper Press, New York;
soft cover; $15.00
Plus $3.50 Shipping & Handling

We hope you will have opportunity to visit us on December 13th 2014 and see Julieanna!
---
Israelite House of David
Church of the New Eve, Body of Christ



Founded at Fostoria, Ohio, 1902, by Mary & Benjamin Purnell;

relocated in 1903, by inspirational direction, to

Benton Harbor, Michigan;

reorganized by Mary Purnell, 1930, as today's:

Mary's City of David

AMERICA'S THIRD OLDEST CHRISTIAN COMMUNITY

In the Spring of 1902, Mary and Benjamin Purnell had found a temporary home and resting place in Fostoria, Ohio, after 7 years on the road as itinerant preachers. Here they would found the nucleus of the Seventh Church at the Latter-Day, the Israelite House of David, Church of the New Eve, Body of Christ, and finish the printing of their 780 page manuscript, of 7 years in writing,

The Star of Bethlehem, The Living Roll of Life.

By inspiration, Mary Purnell was given the actual home base for the newborn church to be at Benton Harbor, Michigan. In the Spring of 1903, a small party of Charles Norris, John Schneider, Cora and Paul Mooney, Mary, Benjamin and Coy Purnell journeyed from Fostoria to Benton Harbor, arriving on Saint Patrick's Day. Silas Mooney had been sent ahead to procure properties for housing and open ground for raising food, and to meet with the heads of the local circle of believers, the Louis and Albert Baushke families and a party of nine in Benton Harbor. The Baushke family being prominent citizens and carriage makers by trade, built in their down town Benton Harbor factory, America's first automobile of their own design.

By 1910 the Star of Bethlehem was in its third edition, had circulated around the world to the churches/followers of the former six Israelite messengers, and had gathered into the fast growing Israelite House of David community over 700 people.

Eden Springs Park was in its second extra ordinarily successful season on its way to become America's premiere pre-Disney, theme park; the House of David schools would provide education and recreational activities for its children that would soon develop into legendary barn storming base ball teams, "Jesus Boys", and traveling jazz bands that would catch the attention of America in sweeping nationwide vaudeville circuit tours throughout the 1920s. By the mid 1930s, and in spite of world wide economic depression, the Israelite House of David and its reorganization, Mary's City of David, would come to dominate southwestern Michigan's economy, tourism and agricultural industries.

As today's third oldest practicing Christian community in America, we welcome you to browse/study/enjoy your way through the pages of our rather unique and extraordinary record; you will find there are many facets and interests upon many levels within the pages. And should you want more information (as this format is only a brief), we welcome you to look at our literature selections at the end of our Gift shop page; contact us by mail, email or phone; and please visit our "Living History" experience of Mary's City of David Museum and Tours (open June through the end of September each year) for an in depth look at the innumerable details of 100 years in progress with roots back to post-Elizabethan England, and Jane Lead's Philadelphian Society.

Within this history you will see that the Israelite House of David and its reorganization, Mary's City of David, over the century, has touched the lives of most of the local population, and also has had its significant effects upon American culture.


We played in the first night baseball game in history at Independence, KS, April, 1930

Our ladies could VOTE and hold office in 1903, 17 years before the 19th Amendment.

One of our founding families was one of America's earliest automobile makers, 1894.

We promoted a vegetarian diet for healthy living in our restaurant and cafe from 1908-1975.

John Philip Sousa led our band in 1921 at San Francisco during our California/west coast tour.

We provided a Jewish summer haven (resort) for 35 years within our Christian community, 1930-1965.

We invented the automatic pin-set for bowling, 1909-10.

A 1929 Michigan State Supreme Court ruling in favor of the House of David reaffirmed freedom of religious practice and expression in America.

Jackie Mitchell, professional baseball's first female, pitched for us in 1933, and was our starting pitcher in our victory over the St. Louis Cardinals, in September of that year

Walt Disney bought one of our original 1909 miniature steam locomotives in the early 1950s.

Our hospital, for its short history, boasted of having the leading surgical theatre in America (1938-39).

Produce from our numerous agricultural properties made the open-air market in Benton Harbor, the largest in the world during the 1940s-1950s.

Our final basketball tour of 1954 was an exhibition series throughout Europe against the Harlem Globetrotters.

We invented the sugar waffle-cone for ice cream.